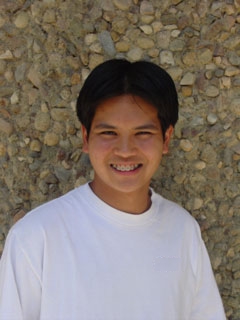 President Chris Nguyen '03
Christopher Hoang Nguyen is seventeen years old, a senior, and a four-year member of the Regiment. Born and raised in Orange County, Chris has lived in Anaheim Hills since he was three years old. In addition to being band president, Chris is also a founding webmaster of CanyonBand.com. He is also an IB student, so his schedule consists of band, three AP/IB classes, and two IB classes. He will probably lose his mind at some point before the school year is over. He loves the social sciences (he plans to double major in political science and economics in college), likes English, and dislikes math. The one subject he despises is the only one he gets B's in - science. Chris is the designated political nut of Canyon's Class of 2003 (if not of all of Canyon). Currently a National Merit Scholarship Finalist, he has test scores people would kill for (such as perfect scores - that's not a typo; it should be scores plural), and he did it without any test prep classes or books. Chris will attend Stanford University beginning in Fall 2003. He is by far the most ambitious person in the band (if not the school), with his sights on corporate law and the White House. His most immediate goal is to avoid impeachment (or assassination) as band president. Chris would like to point out to his fellow officers that it was Drum Major/Secretary Andrea Rinker who was the driving force behind the officer biographies.
---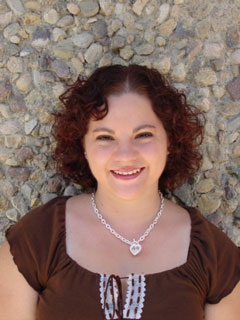 Vice President Sara Kaplan '03
Sara Rachel Kaplan has been in band for all four years of high school and both years of middle school. She has been reading music and playing instruments since she was four (she's seventeen now), so she's pretty good at what she does. Besides band, she is a figure skater and is involved in many other things, too. She's Vice President of the CHS band for 02-03; unfortunately, this means Chris "Tyrant" Nguyen is her superior...may G-d help the band. She's going to try and keep him in control, but she makes no guarantees, people...ANYWAYS...okay, she's open to being friends with anyone, so if you feel like talking, COME TO HER!! lol The trick will be trying to make her shut up...Besides talking though, she likes to be with people and make them laugh; she loves to laugh (once you hear her laugh, you'll understand), she loves to eat, cook, dance, read and music (duh). She also likes to drive; SHE LOVES HER CAR!!! It's her baby!! She just passed 310,200 miles on it (it's a 1984 BMW 528e). Don't EVER diss her car if you want her to like you, or if you want a ride...Well, she's running out of things to type about...Basically, she figures that if you want to know any more about her, come talk to her; she's okay with answering almost any questions you have...ok? Thanks for joining, and she hopes you have a great year with the band!!
---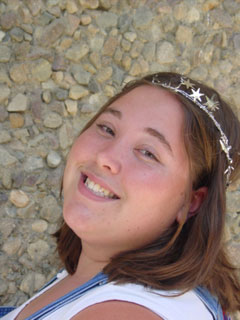 Secretary Andrea Rinker '03
Andrea Martha Rinker is seventeen years old and currently single (and looking!). She is a four-year member of the Regiment and is FINALLY a senior. She has been involved in the Winter Drum Line for three years, and last year was Pit Captain. Unfortunately, she was forced to quit drum line this year, so that she could become a cast member at Disneyland. She is extremely excited to be the Drum Major, band Secretary, and the biggest bando, ready to lead the band this year. In her spare time, she coaches Pop Warner Cheerleading in Yorba Linda, where last season (2002) her team took 3rd place in their competition and advanced to the National Level. She also likes to bowl, watch movies, blow her paycheck on crap, and hang out with all her friends wherever they go. She loves being rivals with Villa Park - she absolutely LOVED the football game this year (it was VP's Homecoming!). After high school, she'll go to CSU Stanislaus where she'll major in Criminal Justice with a concentration in forensic science, one day becoming either a crime scene investigator or a criminologist. She would like to say hello to her best friends (Jenny Allen and Jamie Ruiz), the Regiment, and all her other buddies because she loves them all SO dearly! She would also like to give a "Mad Props" to EVERY drum major, flute, and piccolo player in the world and would also like to add "'03 FO SHO!"
---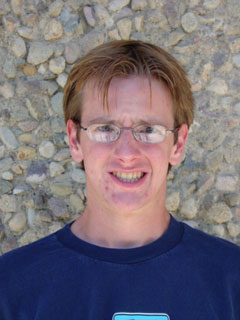 Treasurer Scott Porter '03
Scott McNabb Porter, a four-year-member of the Regiment and a seventeen-year-old senior, did not write his biography, so the web team will make a few, brief comments about him. Scott played clarinet during his two years at El Rancho Middle School and has been a drummer during his four years at Canyon High School. Scott will attend the University of California, Santa Barbara beginning in Fall 2003.
---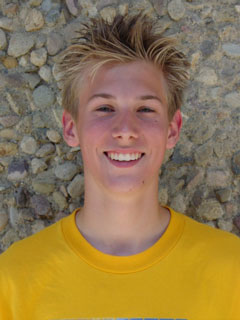 Librarian Evan Parzych '04
Evan R. Parzych, a three-year member of the Regiment, was given the coveted position of band librarian his sophomore year. Because the young underclassman did such an amazing job, his peers elected him to a second term in the God-forsaken job. Through the horror of organizing the music during Band Camp 2002, Evan was able to complete the most difficult part of his job successfully. Evan, who plays tenor saxophone, also enjoys track, in which he competes on the junior varsity level of the long jump for his second consecutive year. Now suffering through his junior year, Evan has all honors classes, one IB class, and one AP class. He hopes to attend UCSD after high school and major in mechanical engineering. He would like to give a shout-out to all the Canyon saxes and that one weird bass clarinet player. He'd also like to give a shout-out to whoever is band librarian next year because it's A LOT OF FUN!!!! Peace and love to all who read this.
---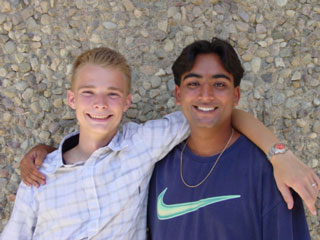 Uniform Managers Chris Gorman '03 and Suchit Mathur '03
Christopher Alan Gorman, a four-year member of the Regiment and an seventeen-year-old senior, has not written his biography, so the web team will make a few, brief remarks about him. Chris moved to Anaheim Hills from regular Anaheim the summer before his freshman year. Chris has played clarinet in both middle school and high school.
Suchit Bahadur Mathur is seventeen years old and a four-year devoted bando. He's played the flute all four years and was Assistant Section Leader his junior year. The only other instruments he's ever played are the piccolo, bass drum, and cowbell. He's running out of ideas to type up in his biography so he's going to mention this – whenever he has free time, he prefers being with friends doing anything, except schoolwork. His favorite song of all time is Will Smith's "Gettin' Jiggy Wit It" and his favorite movies are the Star Wars series. His favorite computer games are "Age of Empires II: The Conquerors," "StarCraft: Brood War," and "Star Wars: Galactic Battlegrounds" (he's always looking for somebody to play against). He sometimes resents being as smart as he is because of all the hard classes he has and all the free time he loses, but wouldn't give it up unless he absolutely had to. He wants to give a shout-out to Tinkerbell, the Gab, AFLAC, The Hick, all the flutes (especially Andrea), and everybody else in band. Well he's all out of ideas, and he figures this is easily long enough, so he'll leave it at this and hope that Chris doesn't edit this even more.
---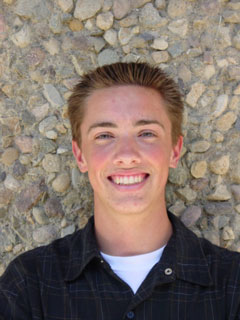 Equipment Manager Jerrod Brewster '03
Jerrod Ryan Brewster, a four-year member of the Regiment and an eighteen-year-old senior, did not write his biography, so the web team will make a few, brief remarks about him. Jerrod played the flute during his two years at El Rancho Middle School and has been a drummer all four years at Canyon High School.
---
Social Chair Mai Kozai '03
Mai Kozai is a four-year member of the CHS band. This is her second year as clarinet section leader and as assistant drum major. She was the band librarian her sophomore year and now holds the position of social chair. She currently plays the bari sax in the jzaz band (yes, JZAZ band). She would like to say a huge 'HI!!' to all the '03 seniors! And a reminder: read the quote board. Its random quirkiness will most likely make you laugh.
---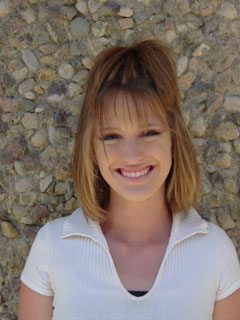 Photo Historian Marissa Smith '04
Marissa Smith is a junior at Canyon and has been in band all three of those very, very long years. She has a really pretty digital camera, and she likes taking pictures. She feels kind of weird writing about herself in third person. She doesn't know what to write, so you get to hear random stuff. Marissa's favorite color is blue. She has a friend named Mindy. She thinks Navneet is a cool name. She plays piccolo; she thinks it's cute, but it won't stay in tune. She's done writing her biography now because she's in history class. The class is watching a movie, so she's going to finish watching it now.