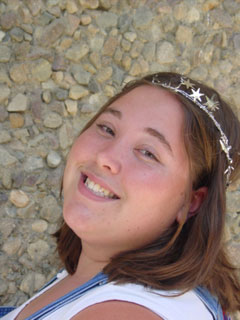 Drum Major Andrea Rinker '03
Andrea Martha Rinker is eighteen years old and single (and looking!) (at this point in time). She was a four-year member of the Regiment and is FINALLY graduated. She was involved in the Winter Drum Line for three years, and was Pit Captain her Junior Year. Unfortunately, she was forced to quit drum line her senior year so that she could become a cast member at Disneyland. She was extremely excited to be the Drum Major, band Secretary, and the biggest bando, ready to lead the band in all that they did. In her spare time, she coaches Pop Warner Cheerleading in Yorba Linda, where in 2002 her team took 3rd place in their competition and advanced to the National Level. She also likes to bowl, watch movies, blow her paycheck on crap, and hang out with all her friends wherever they go. She loves being rivals with Villa Park - she absolutely LOVED the football game her senior year (it was VP's Homecoming!). After high school, she'll go to CSU Stanislaus where she'll major in Criminal Justice with a concentration in forensic science, one day becoming either a crime scene investigator or a criminologist. She would like to say hello to her best friends (Jenny Allen and Jamie Ruiz), the Regiment, and all her TRUE FRIENDS * cough cough TRUE FRIENDS cough cough* because she loves them all SO dearly! She would also like to give a "Mad Props" to EVERY drum major, flute, and piccolo player in the world and would also like to add "'03 FO SHO!"
Assistant Drum Major Mai Kozai '03
Mai Kozai is a four-year member of the CHS band. This is her second year as clarinet section leader and as assistant drum major. She was the band librarian her sophomore year and now holds the position of social chair. She currently plays the bari sax in the jzaz band (yes, JZAZ band). She would like to say a huge 'HI!!' to all the '03 seniors! And a reminder: read the quote board. Its random quirkiness will most likely make you laugh.